Species Profile | Images | Breeding Report | Similar Species
back to the catfish index
How to look after


Ancistrus temmincki


Temmincks bristlenose, Bristlenose catfish




(Valenciennes, 1840)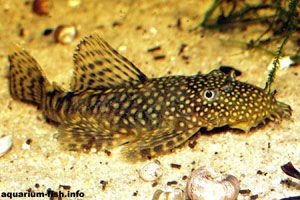 Ancistrus temmincki, or Temmincks bristlenose - males sport a bristly nose
more images here
(Other members of the genus Ancistrus)
ADULT SIZE: 5 cm
WATER CONDITIONS: Not critical
TEMPERATURE RANGE: 24-28 C
FOOD: Feed Ancistrus temmincki live and dried foods
DISTRIBUTION: This species comes from French Guiana, Surinam
SEXUAL DIFFERENCES: Both males and females show some facial bristling, but this is certainly more pronounced in male fish.
AQUARIUM CARE: A small catfish inhabiting many waters in South America. Tanks should be decorated as such with plants and wood. They will clean up algae in the tank but it is important to also include a vegetable component in the diet, such as cucumber, blanched peas etc. Males have distict bristling on the nose - this is far less pronounced in the female
These small catfish make great companions to many other species; they are peaceful, don't grow too large and tolerant a wide range of conditions. An ideal community tank species. Make sure to include some bogwood under which to hide, and rasp upon also.
BREEDING: Breeding is not difficult with the right tank set-up. A well-fed pair will often breed in a community tank. Males select a spawning site, on bogwood or in an upturned flower pot, where eggs will be laid. He will continue to guard/fan the eggs until hatching, and for the first week or so afterwards.
Have you bred Ancistrus temmincki? Why not fill in a breeding questionaire?, or examine existing Ancistrus temmincki breeding reports