Species Profile | Images | Breeding Report | Similar Species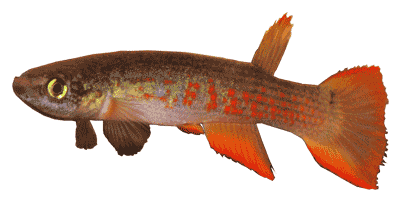 back to the killifish index
How to look after


Aphyosemion australe


Cape Lopez lyretail, Lyretailed killifish




(Rachow) 1921

(Other members of the genus Aphyosemion)

ADULT SIZE: 6 cm

WATER CONDITIONS: Not critical

TEMPERATURE RANGE: 23-28 C

FOOD: Feed Aphyosemion australe small live-foods and fine grade dried foods. All killifish appreciate livefoods, either living or frozen.

DISTRIBUTION: This species comes from Congo (DRC), Gabon, Angola, Congo (Rep.)

SEXUAL DIFFERENCES: Males are brightly coloured with fin filaments. Females are a pale grey/brown.

(1) 1-1.5" PAIR Chocolate Australe Killifish TR Aphyosemion live freshwater
Current price: $16.00
Time left: 29m
AQUARIUM CARE: This is probably the worlds favourite killifish. It is easy to keep (if kept alone or with gentle fish), usually easy to breed, and a stunning addition to a dark well planted aquarium. The most common 'gold' or 'orange' strain is actually a line bred albino, and does not occur in the wild, but what a beautiful fish!
Killifish can be timid, and generally do best in a species tank
BREEDING: An easy mop spawner. This species will also breed in small numbers in a well-planted, well-fed tank. Failure to breed the species is usually a result of too-young parents, rather than environmental factors. Breeding may be easier in softer, more acidic water, but they will breed in most non-extreme conditions
Have you bred Aphyosemion australe? Why not fill in a breeding questionaire?, or examine existing Aphyosemion australe breeding reports