Species Profile | Images | Breeding Report | Similar Species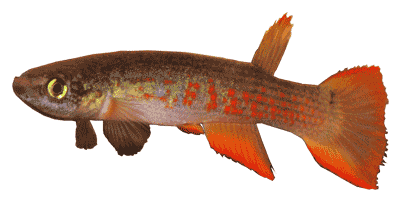 back to the killifish index
How to look after


Aphyosemion striatum


Striped killifish




(Boulenger 1911)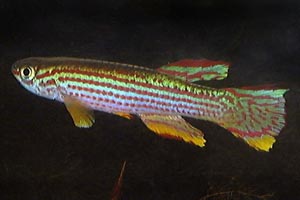 Aphyosemion striatum is one of the best known, and most kept killifish
more images here
(Other members of the genus Aphyosemion)
ADULT SIZE: 5 cm
WATER CONDITIONS: Not critical
TEMPERATURE RANGE: 23-28 C
FOOD: Feed Aphyosemion striatum small live-foods and fine grade dried foods
DISTRIBUTION: This species comes from Gabon, Guinea
AQUARIUM CARE: A great starter killifish; easy to keep and breed, and accepts most foods. This is also one of the best looking killifish available.
Keep Aphyosemion striatum in a dark well planted tank. Soft water is preferable, but not essential. Best kept in a species set up, or in a larger tank with peaceful species of a similar size.
BREEDING: This species is best spawned using spawning mops or a long term set up. The parents are not very predatory towards their young if they are well fed.
Eggs should be incubated in water for around two weeks, the fry being raised at first on newly hatched artemia nauplii.
Have you bred Aphyosemion striatum? Why not fill in a breeding questionaire?, or examine existing Aphyosemion striatum breeding reports