Species Profile | Images | Breeding Report | Similar Species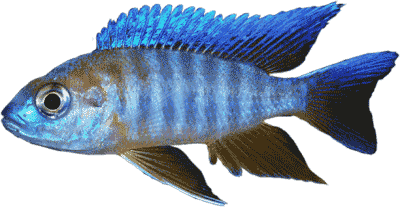 back to the cichlid index
How to look after


Copadichromis borleyi



Iles, 1960
A young pair of Copadichromis borleyi. The male (top) will develop far more intense colours: a yellow/orange body with a blue head, whilst the female (below) can be almost black
more images here
(Other members of the genus Copadichromis)
ADULT SIZE: 16 cm
WATER CONDITIONS: Moderately hard and alkaline
TEMPERATURE RANGE: 25-27 C
FOOD: Feed Copadichromis borleyi live and dried foods
DISTRIBUTION: This species comes from Lake Malawi

Red Fin Borleyi Copadichromis Kadango Lake Malawi African Cichlids Live Fish
Current price: $39.99
Time left: 7d 15h 47m
1 Copadichromis Geertsi Gome ( EXtremely rare)
Current price: $99.00
Time left: 2d 15h 58m
AQUARIUM CARE: An attractive cichlid from Lake Malawi; males are larger, far more colourful, and with long ventral fins with egg spots. Females are darker, almost black. It inhabits the rocky shore area of the lake, feeding on shimps and other invertebrates in open water. Flake and pellet foods are happily accepted in the aquarium, as are live foods, bloodworms etc. Commonly seen variants include the "red fin" and "gold fin"
Like all cichlids, Copadichromis borleyi can get aggressive; a species for the dedicated Lake Malawi tank only.

More about setting up a typical Malawi cichlid tank here.
BREEDING: A maternally mouthbrooder. Males select a spawning territory on a area of rock. Young will thrive on newly hatched artemia
Have you bred Copadichromis borleyi? Why not fill in a breeding questionaire?, or examine existing Copadichromis borleyi breeding reports