Species Profile | Images | Breeding Report | Similar Species
back to the catfish index
How to look after


Corydoras aeneus


Bronze corycat, Gold striped cory




Gill, 1858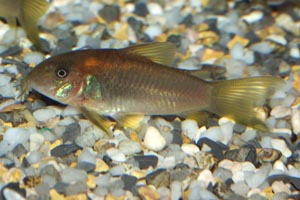 The bronze cory is very common across South America, and in the aquarium trade
more images here
(Other members of the genus Corydoras)
ADULT SIZE: 7 cm
WATER CONDITIONS: Not critical
TEMPERATURE RANGE: 24-28 C
FOOD: Feed Corydoras aeneus small live-foods and fine grade dried foods
DISTRIBUTION: This species comes from Argentina, Bolivia, Brazil, Colombia, French Guiana, Guinea, Paraguay, Peru, Surinam, Venezuela
SEXUAL DIFFERENCES: Females of this species are larger and more rounded than males.

5 BEAUTIFUL BRONZE CORY CORYDORAS AENEUS CATFISH moss java shrimp guppy
Current price: $17.50
Time left: 20d 5h 49m
(5) Emerald Corydoras, Cory Cats, Tank Raised - two FREE mystery snails
Current price: $17.99
Time left: 18d 14h 38m
AQUARIUM CARE: Like all corycats, does best in a small shoal of six plus individuals. An easy species ideal for a well planted community. This species has a wide distribution in southern America, and will fit well into an Amazonian tanks with swordplants, leaflitter and sunken bogwood.

This catfish will eat most live and dry foods, but is particularly fond of worms and small crustaceans.
C. aeneus does fine in a peaceful community tank with small shoalers fish: tetras, danios, killifish etc. Aggressive fish, cichlids for example are problematic in all but the largest aquariums at spawning time.
BREEDING: Breeding is triggered by the start of the rainy season in the wild; a situation easily replicated in captivity by a large water change of slightly cooler water. Eggs are typically laid on stones, plants, and often the aquarium glass.
Have you bred Corydoras aeneus? Why not fill in a breeding questionaire?, or examine existing Corydoras aeneus breeding reports