Species Profile | Images | Breeding Report | Similar Species
back to the catfish index
How to look after


Corydoras sodalis


False Network Cory




Nijssen & Isbrücker, 1986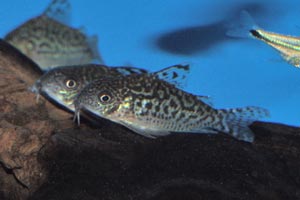 C. sodalis is often confused with the Network Cory, C. reticulatus
more images here
(Other members of the genus Corydoras)
ADULT SIZE: 6 cm
WATER CONDITIONS: Not critical
TEMPERATURE RANGE: 22-26 C
FOOD: Feed Corydoras sodalis small live-foods and fine grade dried foods
DISTRIBUTION: This species comes from Brazil, Peru

RARE Black Corydoras, Schultzei, Cory Cats - Tank Raised
Current price: $12.00
Time left: 9d 16h 37m
Corydoras Aeneus "Green" - Cory Catfish - Live Freshwater Tropical Aquarium Fish
Current price: $47.99
Time left: 18d 10h 21m
AQUARIUM CARE: Corydoras sodalis hails from the Amazon River in Loreto, Peru and Amazonas, western Brazil. It is an easy to keep species, that is not a fussy eater, enjoying live and dried foods - but particularly fond of worms: if possible feed frozen bloodworm, or live white worm, grindal worm or tubifex.
Corydoras sodalis is a good candidate for a community aquarium, though like all Corydoras does best when kept in a small shoal of at least 6-8 individuals.
BREEDING: Captive breeding of this species has not been widely reported.
Have you bred Corydoras sodalis? Why not fill in a breeding questionaire?, or examine existing Corydoras sodalis breeding reports