Species Profile | Images | Breeding Report | Similar Species
back to the catfish index
How to look after


Lasiancistrus tentaculatus


Woodeating Lasiancistrus




Armbruster, 2005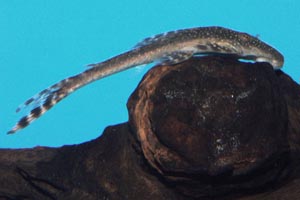 Lasiancistrus tentaculatus, L092, feeds by rasping on driftwood
more images here
(Other members of the genus Lasiancistrus)
ADULT SIZE: 15 cm
WATER CONDITIONS: Moderately soft and acidic
TEMPERATURE RANGE: 23-27 C
FOOD: Feed Lasiancistrus tentaculatus primarily a wood eater. Some vegetables and dry foods, spirulina flakes, algae wafers etc will also be accepted, but not as a long term substitute for wood.
DISTRIBUTION: This species comes from Colombia, Venezuela
AQUARIUM CARE: The Woodeating Lasiancistrus, comes primarily from the drainage areas of Lake Valencia and the Orinoco River in Venezuela and into Colombia; a typical Amazon style set up would be perfect with lots of sunken driftwood on which this species will graze. Other fine grade frozen, dry and live foods will be accepted by this species, but wood is essential. Male fish can be distinguished from females in that they tend to have more profuse bristling (odontodes) around the gills and snout, and somewhat longer pectoral fins.
A very peaceful species that would thrive in most community situations, especially with other catfish of the genera Panaque, Falowella, Otocinclus, and Corydoras, with which it naturally occurs.
Have you bred Lasiancistrus tentaculatus? Why not fill in a breeding questionaire?, or examine existing Lasiancistrus tentaculatus breeding reports