Species Profile | Images | Breeding Report | Similar Species
back to the rainbowfish index
How to look after


Melanotaenia trifasciata


Jewel rainbowfish




(Rendahl, 1922)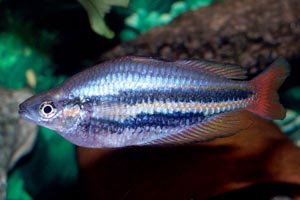 There are many strains (color varieties) of the jewel rainbowfish; some are very different from others
more images here
(Other members of the genus Melanotaenia)
ADULT SIZE: 12 cm
WATER CONDITIONS: Moderately hard and alkaline
TEMPERATURE RANGE: 23-25 C
FOOD: Feed Melanotaenia trifasciata live and dried foods
DISTRIBUTION: This species comes from Australia
SEXUAL DIFFERENCES: Males are somewhat more intensely coloured than females.
AQUARIUM CARE: A relatively widespread rainbowfish with a number of truly beautiful poulations. This really is a jewel rainbowfish! It is a fine community species in larger tanks (at least 48"), and appreciates flowing water.
A suitable tankmate for similarly sized rainbowfish, tetras, cyprinids, and even Lake Tanganyika cichlids.
BREEDING: Best accomplished with spawning mops and the fry raised seperately. Fry can immediately take newly hatched artemia nauplii
Have you bred Melanotaenia trifasciata? Why not fill in a breeding questionaire?, or examine existing Melanotaenia trifasciata breeding reports