Species Profile | Images | Breeding Report | Similar Species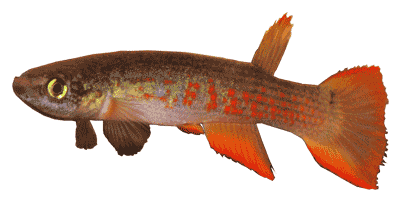 back to the killifish index
How to look after


Nothobranchius rachovii


Rachov's Nothobranch




Ahl 1926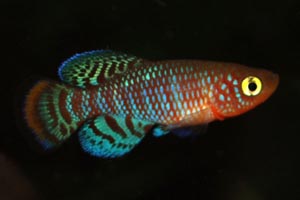 Nothobranchius rachovii is one of the most spectacular of all aquarium species, and photographs rarely do it justice
more images here
(Other members of the genus Nothobranchius)
ADULT SIZE: 7 cm
WATER CONDITIONS: Not critical
TEMPERATURE RANGE: 23-28 C
FOOD: Feed Nothobranchius rachovii predominantly live foods
DISTRIBUTION: This species comes from South Africa, Mozambique
SEXUAL DIFFERENCES: Female Nothobranchius are noticeably smaller than males, and lack the colouration that these fish are famous for.
AQUARIUM CARE: This small Southern African killifish vies for the position of most attractive fresh water species. This species is a real treat to keep but not for beginners. It requires regular livefoods, and being aggressive should be kept as a pair, trio or bigger group with many individuals. These are true annual fish, reaching maturity very quickly, yet rarely living longer than a year.
Nothobranchius are completely unsuitable for the community aquarium, and due to their short life span are best kept in a permanent breeding set up with a peat spawning substrate and no other species present.
BREEDING: This is a typical substrate spawner, eggs should be incubated in partially dried peat for up to six months, often less for newly collected species. The key is to collect many eggs, so whenever the eggs are rewetted, some fry will emerge.
Have you bred Nothobranchius rachovii? Why not fill in a breeding questionaire?, or examine existing Nothobranchius rachovii breeding reports