Species Profile | Images | Breeding Report | Similar Species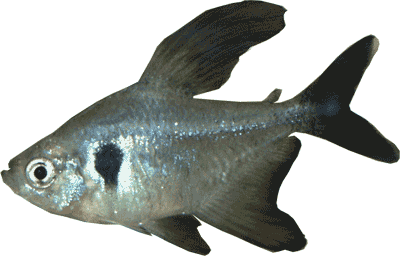 back to the characin index
How to look after


Phenocogrammus interuptus


Congo Tetra




Boulenger, 1899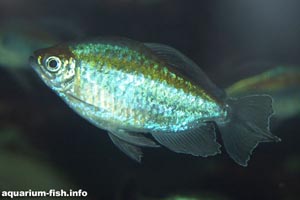 The Congo tetra is one of the larger tetras generally available for the aquarium
more images here
(Other members of the genus Phenocogrammus)
ADULT SIZE: 9 cm
WATER CONDITIONS: Not critical
TEMPERATURE RANGE: 23-27 C
FOOD: Feed Phenocogrammus interuptus small live-foods and fine grade dried foods. Live and frozen insect larvae greatly appreciated (bloodworm, glassworm, mosquito larvae). Not a fussy eater.
DISTRIBUTION: This species comes from Congo (DRC)
SEXUAL DIFFERENCES: Males are larger with more impressive finnage
AQUARIUM CARE: One of the few African characins regularly seen for sale in aquarium stores. An active shoaler, though a little shy at times; most at home in a darker tank, well planted in places, but with plenty of open space in which to swim - preferably against a current.
BREEDING: Requires a spawning tank with very soft, slightly acidic water. An egg scatterer.
Have you bred Phenocogrammus interuptus? Why not fill in a breeding questionaire?, or examine existing Phenocogrammus interuptus breeding reports