Species Profile | Images | Breeding Report | Similar Species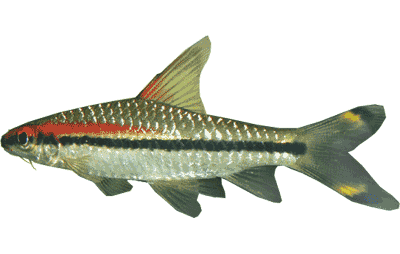 back to the cyprinid index
How to look after


Puntius oligolepis


Checker barb, Checkered barb, Island barb,




(Bleeker, 1853)

(Other members of the genus Puntius)

ADULT SIZE: 5 cm

WATER CONDITIONS: Not critical

TEMPERATURE RANGE: 23-27 C

FOOD: Feed Puntius oligolepis small live-foods and fine grade dried foods. Not a fussy eater; some vegetable component appreciated

DISTRIBUTION: This species comes from Indonesia

(6) Albino Tiger Barbs Puntius tetrazona Cyprinidae Live Tropical Aquarium Fish
Current price: $27.99
Time left: 11d 12h 36m
(10) 1-1.5" Cherry Barb Puntius titteya live freshwater tropical fish schooling
Current price: $25.00
Time left: 27d 18h 19m
AQUARIUM CARE: A well known and easy to keep species, suitable for an active community aquarium; it's name reflecting the checkered patterning of the black-edged scales. The checker barb hails from the island of Sumatra, Indonesia.
A good community fish, if kept away from delicate species. As a shoaler should be kept in groups, preferably larger to avoid too much bickering.
BREEDING: Sexing fish is easy: males have redder fins with black edges, whilst females are more rounded in shape. The checker barb is an egg scatterer and can be bred over marbles or using a long term approach. The fry are small and will require paramoecium or other infusoria as a first food.
Have you bred Puntius oligolepis? Why not fill in a breeding questionaire?, or examine existing Puntius oligolepis breeding reports