Species Profile | Images | Breeding Report | Similar Species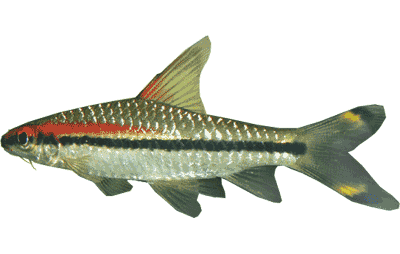 back to the cyprinid index
How to look after


Puntius tetrazona


Tiger Barb




Bleeker, 1855

(Other members of the genus Puntius)

ADULT SIZE: 7 cm

WATER CONDITIONS: Not critical

TEMPERATURE RANGE: 22-28 C

FOOD: Feed Puntius tetrazona live and dried foods

DISTRIBUTION: This species comes from Indonesia

SEXUAL DIFFERENCES: Males are somewhat slimmer, and slightly more brightly coloured.

(5) Black Ruby Barbs Puntius nigrofasciatus AWESOME! FREE SHIPPING
Current price: $18.99
Time left: 23d 19h 47m
(6) Albino Tiger Barbs Puntius tetrazona Cyprinidae Live Tropical Aquarium Fish
Current price: $27.99
Time left: 14d 5h 36m
AQUARIUM CARE: This Sumatran barb is an old favourite in the aquarium hobby; it is an attractive and active species, and also pretty hardy. Tanks can be planted, but should also have plenty of open space for swimming.
A robust and undemanding species, and a good candidate for certain community tanks - ie those with no slow moving species - no guppies, angelfish, labyrinth fish etc. Tankmates must be hardy, and agile, as this species is a fin-nipper. This behaviour can be reduced if kept in a lerge shoal.
BREEDING: Avid egg eater, spawn over marbles
Have you bred Puntius tetrazona? Why not fill in a breeding questionaire?, or examine existing Puntius tetrazona breeding reports