Species Profile | Images | Breeding Report | Similar Species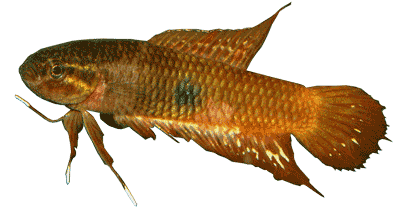 back to the labyrinth index
How to look after


Trichogaster leeri


Pearl gourami




Bleeker, 1852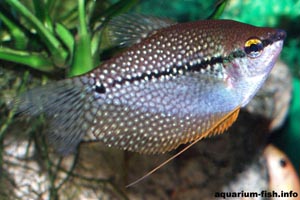 The female pearl gourami has none of the golden coloration on the throat
more images here
(Other members of the genus Trichogaster)
ADULT SIZE: 12 cm
WATER CONDITIONS: Not critical
TEMPERATURE RANGE: 23-23 C
FOOD: Feed Trichogaster leeri live and dried foods
DISTRIBUTION: This species comes from Borneo, Indonesia, Malaysia, Thailand
AQUARIUM CARE: Like all gouramis, the pearl gourami is used to slow moving waters, often vegetation choked, where conditions are often dark, and its feelers become a necessity.
Tankmates should be calm, and occupy the lower levels.
BREEDING: This popular aquarium species is a typical bubble nest builder. Sexing adults is easy; males have a orange to red throat, and longer fin extensions. The fry are very small and require infusoria as a first food.
Have you bred Trichogaster leeri? Why not fill in a breeding questionaire?, or examine existing Trichogaster leeri breeding reports