Species Profile | Images | Breeding Report | Similar Species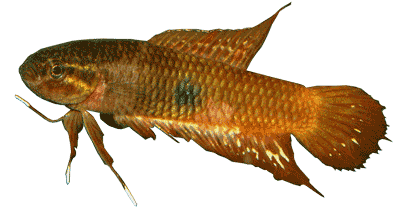 back to the labyrinth index
How to look after


Trichopsis vittata


Croaking gourami




(Cuvier, 1831)
The croaking gourami is a very small fish that prefers a dimly lit shaded aquarium, with significant planting
more images here
(Other members of the genus Trichopsis)
ADULT SIZE: 6 cm
WATER CONDITIONS: Moderately soft and acidic
TEMPERATURE RANGE: 22-28 C
FOOD: Feed Trichopsis vittata small live-foods and fine grade dried foods. Does best when offered regular feedings of smaller live foods, particularly Artemia, Daphnia, bloodworm and mosquito larvae.
DISTRIBUTION: This species comes from Cambodia, Indonesia, Laos, Malaysia, Singapore, Thailand, Vietnam

(6) Sparkling Gourami - Trichopsis pumila, Pygmy Gourami - Live Tropical Fish
Current price: $14.99
Time left: 8d 11h 28m
AQUARIUM CARE: The croaking gourami is one of the smaller labyrinth fish commonly available in the aquarium trade. It has a wide geographical range, living in slow moving and still waters: marshes, paddy fields and roadside culverts; often with blackwater, or thick with vegetation. The 'croaking' name refers to it's ability to produce sound with structures around it's pectoral fins: naturally used to communicate with other members of the species, particularly during courtship and aggression.
This small fish does better in a species aquarium, or with very peaceful fishes of similar size. An aquarium set-up which replicates it's natural environment is best: no strong water flow, and preferably well-planted, shaded with floating plants to provide shade. A dark substrate helps these fish look at their best, and if provided with some leaf litter on the tank floor, the resultant colony of infusoria will help feed fry in their first days - before they are large enough to take newly hatched brine shrimp.
BREEDING: A typical bubble nester; in a still tank the male will build a nest at the water's surface; after egg laying the male will place eggs into the nest which the pair will guard. Once the fry are free-swimming (around 4-5 days after laying) parental care will end. Young are typically too small to take newly hatched Artemia immediately and must be allowed a few days on paramoecium before moving on to the shrimp.
Have you bred Trichopsis vittata? Why not fill in a breeding questionaire?, or examine existing Trichopsis vittata breeding reports