Species Profile | Images | Breeding Report | Similar Species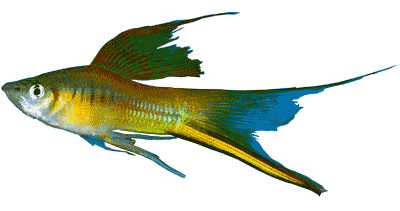 back to the livebearer index
How to look after


Xiphophorus maculatus


Platy




(Guenther, 1866)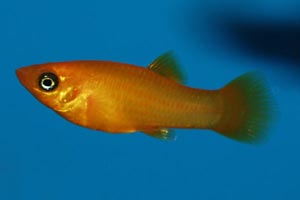 This orange platy is one of many colour forms, that are much brighter than the wild fish
more images here
(Other members of the genus Xiphophorus)
ADULT SIZE: 6 cm
WATER CONDITIONS: Moderately hard and alkaline
TEMPERATURE RANGE: 21-25 C
FOOD: Feed Xiphophorus maculatus small live-foods and fine grade dried foods. Some vegetable component to the diet is welcomed.
DISTRIBUTION: This species comes from Belize, Guatemala, Honduras, Mexico

15 LIVE Freshwater Platy Fish - Juvenile
Current price: $23.00
Time left: 29d 12h 51m
(6) 1-1.5" Golden Leopard Platy TR Xiphophorus maculatus Live Freshwater
Current price: $15.00
Time left: 26d 7h 39m
AQUARIUM CARE: The platy is an all-time aquarium favourite, with very many varieties and colour forms. It is very easy to keep and breed in slightly harder water. Males can be a little aggressive towards females, and in order to avoid over-stressing them it is a good idea to have 2-3 females for each male, and/or ample hiding places to allow the females some respite from the male's attentions. If fry are to be raised this cover can also improve survival chances, giving them somewhere to escape predation from their parents and other fish.

Fry are produced every three weeks or so, and the females can actually store sperm to fertilize eggs even with no male present.
The Platy is an ideal community species; peaceful, hardy and easy to keep and breed. Platies will interbreed readily with swordtails (Xiphophorus helleri) but generally not other livebearers.
BREEDING: No special treatment is required to breed the platy, and they will give birth to offspring about every three weeks. They are livebearing fish (they give birth to fish, rather than lay eggs), and the fry are big enough to eat powdered flake food. They prefer, and grow more quickly on, newly hatched artemia nauplii. Heavily pregnant females can be placed in a breeding trap, or another small tank, and removed once she has given birth - other fish will eat young livebearer fry.
Have you bred Xiphophorus maculatus? Why not fill in a breeding questionaire?, or examine existing Xiphophorus maculatus breeding reports