Species Profile | Images | Breeding Report | Similar Species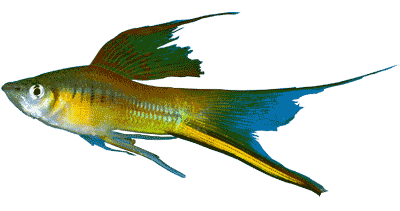 back to the livebearer index
How to look after


Limia nigrofasciata


Black striped limia, Hump-backed livebearer




Regan, 1913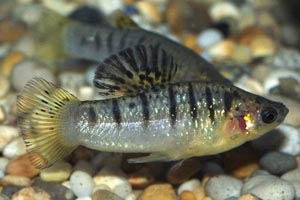 (Other members of the genus Limia)
ADULT SIZE: 5 cm
WATER CONDITIONS: Moderately hard and alkaline
TEMPERATURE RANGE: 23-28 C
FOOD: Feed Limia nigrofasciata anything, a true omnivore
DISTRIBUTION: This species comes from Dominican Republic, Haiti
AQUARIUM CARE: An attractive, if subtle livebearer, that prefers to be in a group of its own kind. Not difficult to keep or breed, given adequate food and accomodation. Like may livebearers, the black-barred limia likes some vegetation in its diet, and it may well graze on algae if present
BREEDING: A typical livebearer - use breeding traps, or separate heavily pregnant females. The yound can be raised on a combination of crushed flake and artemia
Have you bred Limia nigrofasciata? Why not fill in a breeding questionaire?, or examine existing Limia nigrofasciata breeding reports
Limia nigrofasciata

Black striped limia, Hump-backed livebearer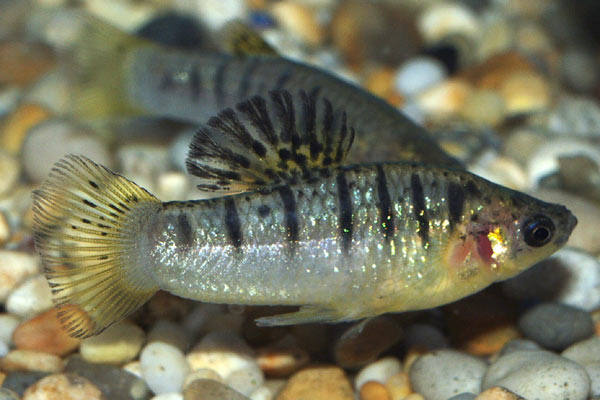 A male black-barred Limia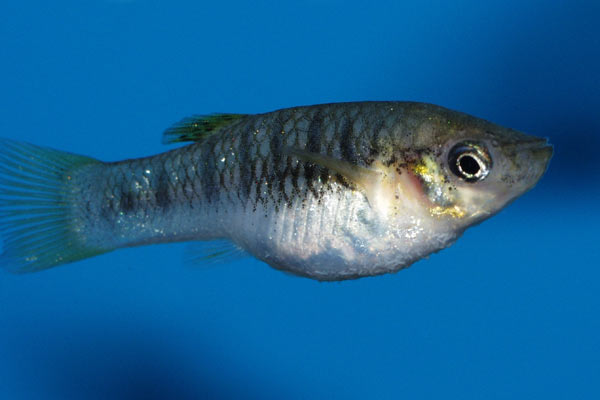 The female Limia nigrofasciata is larger and plumper than the male. Note also the smaller dorsal fin.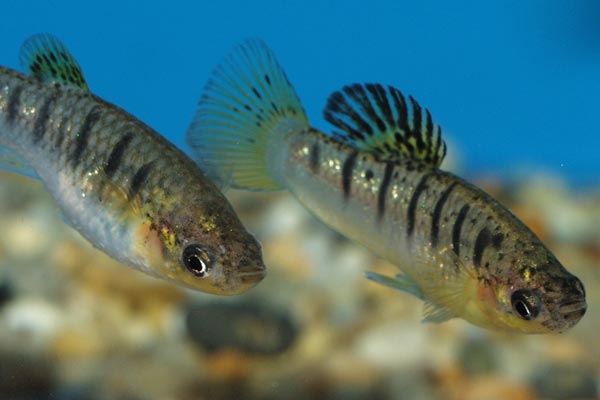 The male is noticeably smaller than female, but more intensely coloured
---
Limia nigrofasciata

Black striped limia, Hump-backed livebearer
breeding notes
BREEDING: A typical livebearer - use breeding traps, or separate heavily pregnant females. The yound can be raised on a combination of crushed flake and artemia
Have you bred Limia nigrofasciata? Why not fill in a breeding questionaire?
---
This page summarises breeding reports provided by visitors to this site, along with some statistical analysis. Please feel free to contribute - whatever your experience!

2 breeders have filled in breeding reports, a summary of the results are shown in the graphs below. You can read the full reports here.

To add details of your experiences of Limia nigrofasciata, why not fill in a Breeding and maintenance Report.

















Remember, each record represents only one persons experience; if you had different results, or used different methods, please share your experiences
---
Water conditions:

Moderately hard and alkaline

Water temperature: 24-27oC
Disposition:

Active, but not aggresive

Community tank?:

Yes, a good community fish

Spawning Method:

Long term (fry appear with adults)

Breeding problems:

none

Sex ratio:

Roughly equal

Breeding difficulty:

Very easy

Sucess:

Very sucessful

Years Experience:

1

Other Comments:

They aren't selective breeders, if you have a healthy male and a female, they will breed. I've seen males in a community tank try to breed with female Turquoise Rainbows which are more than 3x larger than these Limia.

Date this record created:

16th November 2012

Breeding date:

2012

Breeder:
Location:

Portland, OR
---
Water conditions:

Neutral

Water temperature: 24-27oC
Disposition:

Active, but not aggresive

Community tank?:

Yes, a good community fish

Spawning Method:

Long term (fry appear with adults)

Breeding problems:
Skewed sex ratio
Sex ratio:

Somewhat male heavy

Breeding difficulty:

Easy

Sucess:

Average

Years Experience:

5

Other Comments:
Date this record created:

9th July 2012

Breeding date:

2011

Breeder:

aurelian

Location:

barcelona