Species Profile | Images | Breeding Report | Similar Species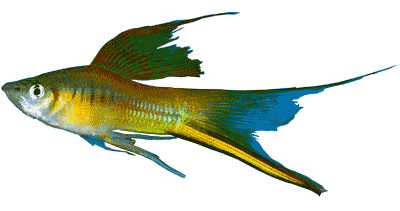 back to the livebearer index
How to look after


Xiphophorus helleri


Swordtail




(Heckel, 1848)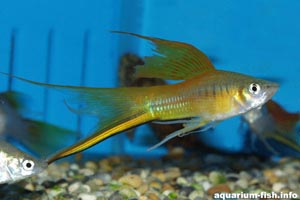 Swordtails come in different varieties - pictured is a male lyretail swordtail
more images here
(Other members of the genus Xiphophorus)
ADULT SIZE: 11 cm
WATER CONDITIONS: Moderately hard and alkaline
TEMPERATURE RANGE: 22-28 C
FOOD: Feed Xiphophorus helleri live and dried foods. Not a fussy eater at all.
DISTRIBUTION: This species comes from Guatemala, Mexico

2 TRIO KOHAKU KOI SWORDTAIL, (Xiphophorus helleri), VERY NICE QUALITY LIVE FISH
Current price: $40.00
Time left: 2d 10h 22m
Pair of Xiphophorus pygmaeus 'Río Huichihuayan' (Pygmy Swordtail, Livebearer)
Current price: $3.33
Time left: 9h 5m
AQUARIUM CARE: One of the most popular aquarium fishes, and a great candidate for the beginners aquarium. The wild type swordtail, or green swordtail is very common, but it also comes in many other colour forms and shapes: typically with varying degrees of red, white, yellow and black.

This is a very tough species that can adapt to most water conditions, though preferring slightly harder water. Sexing is easy as the males have a 'sword' on their caudal fin; females are slightly larger and overall more rounded.
This is a great community species, although males can get somewhat aggressive at times, so provide ample hiding places for subdominant males females and fry.
BREEDING: A very easy livebearer that gives birth to large fry. Females can be seperated (breeding trap) when heavily pregnant to avoid unwanted male attention, and to avoid predation of the newly born fry. Even when bred in a well-stocked community tank, some fry will survive. Swordtails will interbreed with platies (Xiphophorus maculatus) if kept in the same aquarium.
Have you bred Xiphophorus helleri? Why not fill in a breeding questionaire?, or examine existing Xiphophorus helleri breeding reports